PRICES
A Deposit payment of £200 for volume course can be paid up front, with the remaining payment being made 3 days prior to your course.
The full price of the course is £525 (Includes Volume Kit and lunch).
We have a 14 day cancellation policy which means that you can still cancel or reschedule your course date (this must be done at least 14 days prior the course date.)
HOW LONG IS THE COURSE?
The course lasts for one day, beginning at 10am until 7pm.
Please note you will need to bring a live model to practice on during the times of 3.30pm to 7.00pm. If you are unable to find a model, we can help you find one for an additional fee of £50, please give us at least 7 days' notice so that we can help you with this.
Have you mastered the classic techniques and want to be on the leading edge of artistry? Russian Volume Lashes is a revolutionary technique where you will learn how to safely and beautifully apply multiple super-fine lashes to one single eyelash creating a look which is incredibly full and soft. Distance yourself from the competition and offer a superior service that many other lash artists cannot replicate.
With years of experience and having completed a huge number of courses Shareen can now teach and provide thorough knowledge and help you develop all the best practical skills.
As an expert in her field, Shareen is the ideal trainer and mentor. Her techniques are clear and concise and each individual student will come away feeling more confident and prepared for a career in eyelash extensions.
After finishing the course you will receive a Beauty Guild accredited certificate.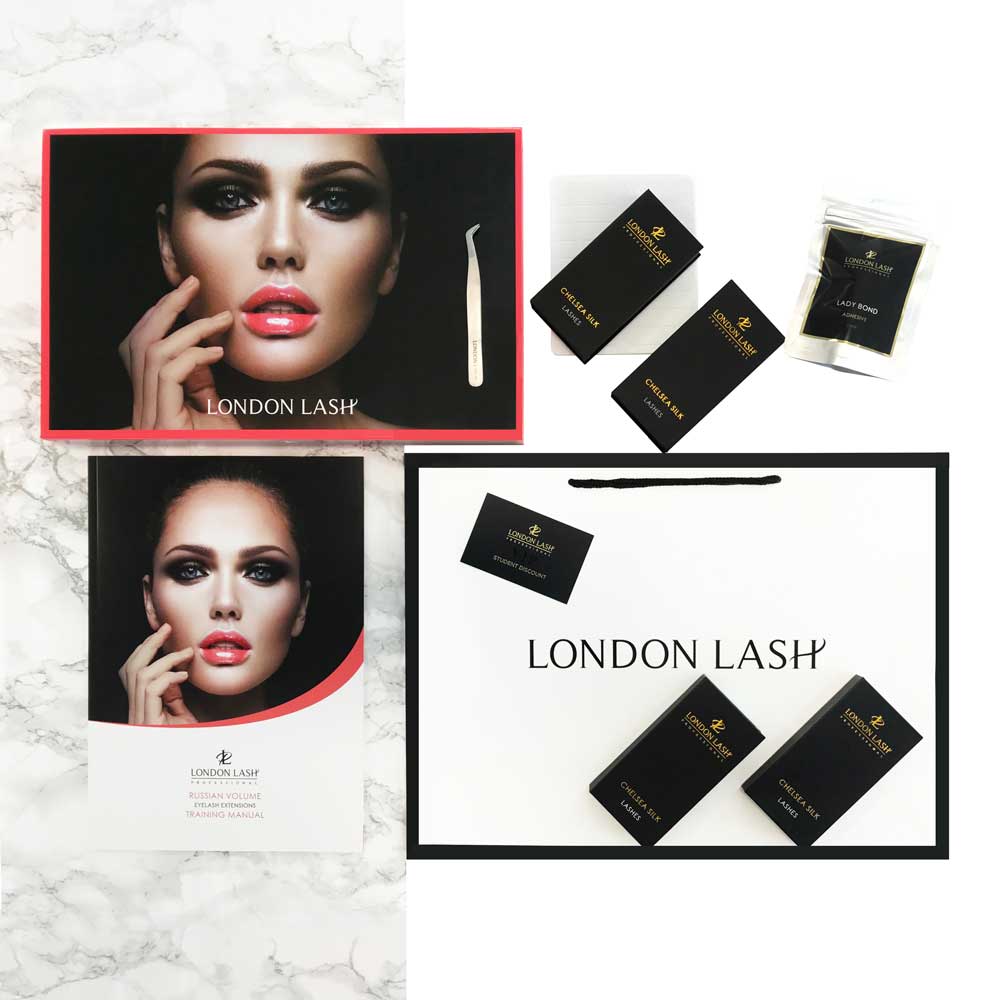 VOLUME KIT (included with the price of the course RRP £165.00!)
1x Pair of London Lash volume tweezers
4x Russian Volume eyelash extensions trays
1x Lash Adhesive / Glue 5ml
1x Lash Palette
1x Training manual
1x LLP Notepad
CONTENT OF THE COURSE
Tools and products for volume eyelash extensions. What to focus your attention on when lashing. What could affect the speed and the quality of your work.
Everything about the glue. The reasons why lashes are not lasting. How to choose the right glue.
Allergies and common mistakes that could irritate eyes.
How to choose the right thickness for Russian volume lashes.
Preparing the lashes for a better attachment. What to use to have better retention.
Expanding the knowledge in styling and mapping. Helping you to easily choose the right style for each client to suite their eyes and enhance their best features.
Perfect lash line. No more funny lashes.
Direction of the lashes.
London Lash Pro 4 different volume techniques in few different styles like 2D, 3D and 6D.
The right distance between natural lash and eyelid. New rules!
How to correctly apply volume fan on the natural lash.
Infills, how to clean lashes and fill in volume extensions.
Pricing for volume eyelash extensions, infill prices.
How to take beautiful pictures of your works. Promote your business…
        After completing the training YOU WILL RECEIVE:
London Lash Accredited Certificate*
Beauty Guild 15 CPD points.
20% DISCOUNT to buy any London Lash products online which is valid for 1 week after the training.
10% FOREVER STUDENT DISCOUNT for ANY products and training courses from London Lash
CANCELLATION POLICY
If you unable to attend the course, you must let us know at least 14 days before the date of the course. If you cancel your course without giving 14 days prior notice unfortunately we will be unable to refund you the cost of your deposit.
REQUIREMENTS
You need to be a certified eyelash extensions technician and have at least 3 months of experience to attend this course. You will need to send us a clear photo or copy of your first lash certificate which is dated at least 3 months prior to the beginning of your course. Please be aware that this is a legal requirement, and unfortunately we cannot issue a certificate in Russian Volume extensions until your first certificate is at least three months old. If you are certified but do not have a copy of your certificate, we can offer an exam for an extra fee which will be dated from the date of the exam. Three months after this, we will then be able to issue your Russian Volume certificate.